16 Education faculty, staff receive Seeds for Success Acorn Awards
For the first time since the COVID-19 pandemic, the Purdue University Office of Research held a Seeds for Success Acorn Award Ceremony (Nov. 1) to honor faculty recipients, including 16 College of Education faculty and staff.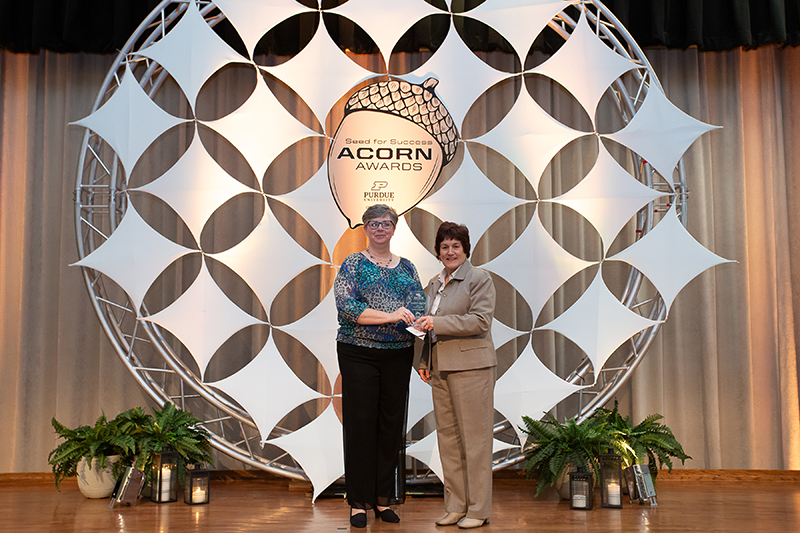 The award recognized Purdue principal investigators and co-investigators who obtained their first research grants with external funding of $1 million or more for a single proposal in 2021, 2022, or 2023.
"Receiving the Seed for Success Acorn Award early in my collegiate career is very humbling," said one College of Education winner, Kristen Seward. "I am honored to carry out gifted education research to change life trajectories of youth and value that Purdue recognizes the vital importance of this work."
2021
Nathan Mentzer
Timothy J. Newby
Kharon D. Grimmet
Adrie Anne Koehler-Blair
Martha Lindley McDavid
2022
Jasmine L. Begeske
Jennifer E. Renn
Sarah E. LaRose
Christina L. Wessel-Powell
Helen Claire Bentley
Virak Chan
2023
Chrystal S. Johnson
F. Richard Olenchak
Kristen K. Seward
Alissa P. Cress
Yukiko Maeda
"We are thrilled to see so many of our faculty and staff joining previous College of Education recipients of the prestigious Acorn Award," said Wayne E. Wright, associate dean for research, graduate programs and faculty development. "These $1M+ grants not only lead to important research discoveries, but also have a positive impact on students, teachers, administrators, parents, and community members through our collaborative partnerships with schools and community organizations across the state and country and around the world."
"Being awarded $1 million in research funding is a true milestone," said Karen Plaut, executive vice president for research. "It is an important recognition of a researcher's accomplishments and innovative ideas. It also recognizes not only what researchers accomplished today but also our hopes and aspirations for the future and the impact that they will have on the world."
Congratulations to all of our Boilermaker Educator faculty and staff recipients!
A full list of award recipients is available at the awards webpage.
Sources: Wayne E. Wright, wewright@purdue.edu; "Purdue honors researchers with Seed for Success Acorn Awards" (Purdue Today, Nov. 3, 2023)