Clinical Experiences
The Office of Clinical Practice coordinates early field experiences and student teaching placements for all students in Purdue's teacher education programs.
Early Field Experiences
Early Field Experiences is an opportunity to collaborate with an experienced teacher to gain knowledge of the teaching profession. During this experience you will be placed in a variety of schools and grade levels to help prepare you for student teaching, and your career as a lifelong learner. Your experience can begin as early as your freshman year in your specific content area and will continue until your Student Teaching experience.
My first classroom experience was what assured me that teaching was the profession for me. The 1:1 student interactions were, and will always be, my favorite part of visiting a classroom. Every experience I've had since has been structured to further prepare me for student teaching and beyond.
Elena Mount
Elementary Education '20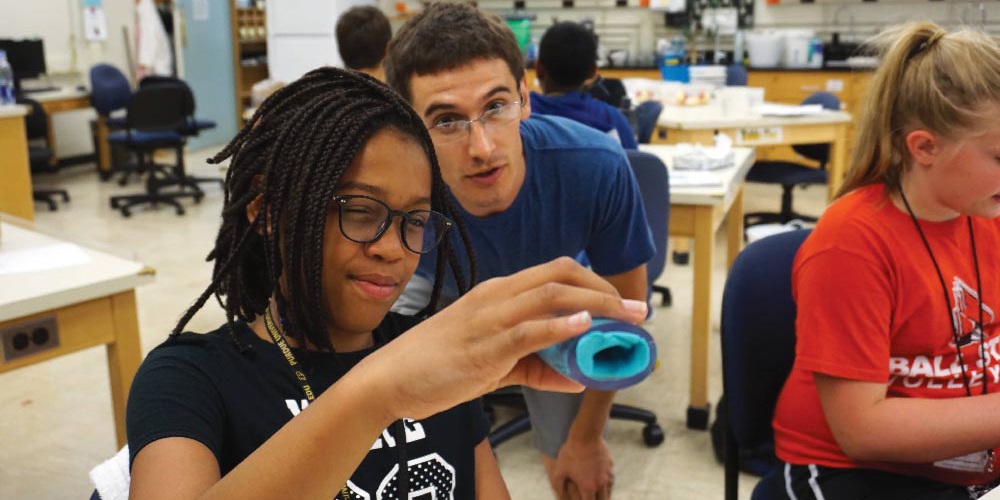 Student Teaching Experience
Student teaching placement options vary by program. Your needs, licensing requirements, and mentor availability will all be factored into finding you a great experience.
More than half of our students choose to stay near Purdue's campus. But if you're looking for an adventurous experience, consider our student teaching options at Aldine School District in Houston, Texas; in Honduras; on Native American reservations in Arizona or New Mexico; or on a Department of Defense military base in Germany.
We also have student teaching partnerships with Jefferson County School Corporation (KY), Indianapolis Public Schools and Chicago Public Schools.
What's it like to be a student teacher?
Our program uses the co-teaching model. This means that you'll work closely with your cooperating teacher in all aspects of the teaching experience. You'll be actively engaged with students from the first day of your student teaching experience, and your students will benefit from two teachers' energy, attention, instruction and feedback.
You'll also plan curriculum with your cooperating teacher. This means that you'll have a great model of everything that goes into the planning process. You'll learn how to work with school personnel like aides, resource teachers, and even parent volunteers, all with guidance and feedback from your cooperating teacher.
Boilermaker Educators get more hands-on experience in our program, participating in a field placement every semester, which is paired with a weekly one-hour seminar for deep reflection, planning, and collaboration with teaching peers. Majors within the College of Education can get a full school year in the classroom and some may even be paid for it.
FAQs
1. How do I complete or update my criminal history check?
Please use the following site: www.castlebranch.com.
You will need to use the code PU12 for your first one, and then PU12re for each annual renewal.
2. When should I apply for student teaching?
The application needs to be completed in January the year before you plan to student teach. Please make sure you are signed up for and receiving TEACHED emails. You will receive instructions on how to create an account and information about the application workshop via email. If you think you've already missed it – contact the Office of Clinical Practice as soon as possible.
3. Where can I student teach?
Most student teachers are placed in Tippecanoe County (Purdue area) and the six surrounding counties. We also have special partnerships with Indianapolis Public Schools, Jefferson County, and Chicago Public Schools. If you want an adventurous experience, be sure to explore our options in Houston, Texas; Native American reservations in New Mexico or Arizona; Honduras; or with a Department of Defense school in Germany. Please note that the special option choices vary by program.
You will have the opportunity to select your top three placement preferences during the application process, and our office will make every effort to get you your number one choice.
4. How will I find out about my placement?
You will receive a direct placement confirmation email from the Office of Clinical Practice, shortly after your official paperwork arrives. All school corporations work on different timelines; some placements come back to us in just a few days and other take months. We promise to contact you if there is an issue and to notify you with placement news as soon as possible!
5. Where do I go for help?
Beering 3229
(765) 494-2345
ocp@purdue.edu
Contact us with any questions about this important component of your professional development.