Indiana GEAR UP: Creating doors and opportunities for students
"Education beyond high school transcends people's lives," says the director of an innovative seven-year program that supports and prepares Indiana students from lower income communities to graduate from high school and go on to start college successfully.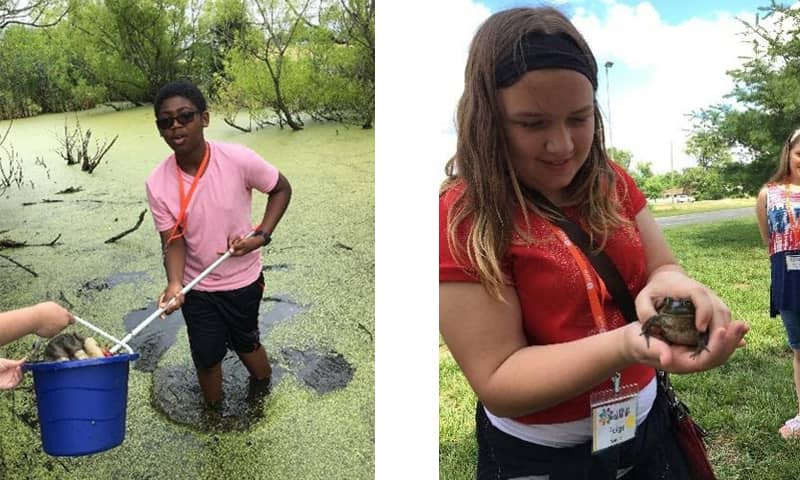 Virginia Bolshakova directs the Indiana Gaining Early Awareness and Readiness for Undergraduate Programs (GEAR UP), funded by the U.S. Department of Education (USDOE) in 2016 for $24.5M. The program starts with cohorts of seventh graders and sees them through the first year of college or education beyond high school. Currently the first cohort, the Class of 2022, is in its first year of postsecondary education, and the second cohort, the Class of 2023, is preparing to graduate from high school and begin college in the fall of 2023.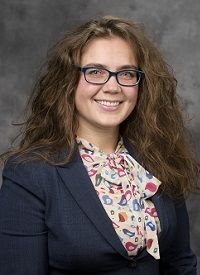 Now in its seventh year, Indiana GEAR UP (INGU) is led by a collaborative team of staff from the Purdue University College of Education and the Indiana Commission for Higher Education (ICHE). The program is working with students in nine partner school corporations and associated schools in Indiana, and is part of the USDOE GEAR UP program.
INGU has two main goals: (1) to increase the number of students who are prepared to enter and succeed in postsecondary education, and (2) to conduct research to better understand student STEM learning, persistence, and entry into college and careers.
"What we try to do a lot with GEAR UP is to provide experiential learning opportunities for students that they may normally not get during the regular school day," Bolshakova said. Besides focusing on STEM subjects, students may have opportunities like working in a school greenhouse garden to tie in with agriculture, nutrition and science.
Partnerships and Activities
INGU currently partners with nine Indiana school corporations supporting the cohorts of the Class of 2022 and Class of 2023 – over 7000 students across the state.
Along with these targeted partnerships, the program offers to:
Students and families: after school enrichment, family nights, STEM activities during the school year and summer, and help with college preparation and financial aid planning, testing and enrollment in the 21st Century Scholars program
Teachers and educators: professional development, instructional support in the classroom, and a community of practice for INGU partner school educators
Schools & Communities: School and Community Partnership Grants to bolster college going culture, as well as Bridge to College Grants to develop infrastructure from k-12 schools to institutions of higher education
Student Support
Student development is key to INGU. During the summer of 2022, INGU students and parents participated in the STEAM Leadership Institute at Purdue .
"We are integrating critical 21st century skills of problem-solving, creative thinking, project management, working collaboratively with students, teachers, and families as we prepare them academically," Bolshakova said.
"My favorite experience was when we went to Purdue because that was a really great experience to be on campus and see how campus life would be like," said Ariana Smith, a Class of 2022 INGU student.
"For a mom like myself who's a single mom, I get very caught up into work so GU has been extremely helpful," said Ariana's mother, Shanika Scott . "The tutoring I think she mentions the most because it has been a tremendous help to us all throughout high school. But being able to get the assistance with grants and different resources to look into to get her college-ready has probably been one of the most beneficial things from INGU so far."
"I've watched as my son has grown and developed not just scholastically but in extracurricular activities and having the after-school enrichment program has been wonderful for him developing friendships that he probably wouldn't have developed outside of having INGU as well as developing leadership skills," said Dynetta Minter , mother of INGU student Dylan Minter.
One of INGU's main activities this fall and winter has been Bridge to College days. Partnering with the Indiana Commission for Higher Education and several college and technical training campuses across the state provides these college visits in Indiana to GEAR UP students free of charge, including housing, transportation and food.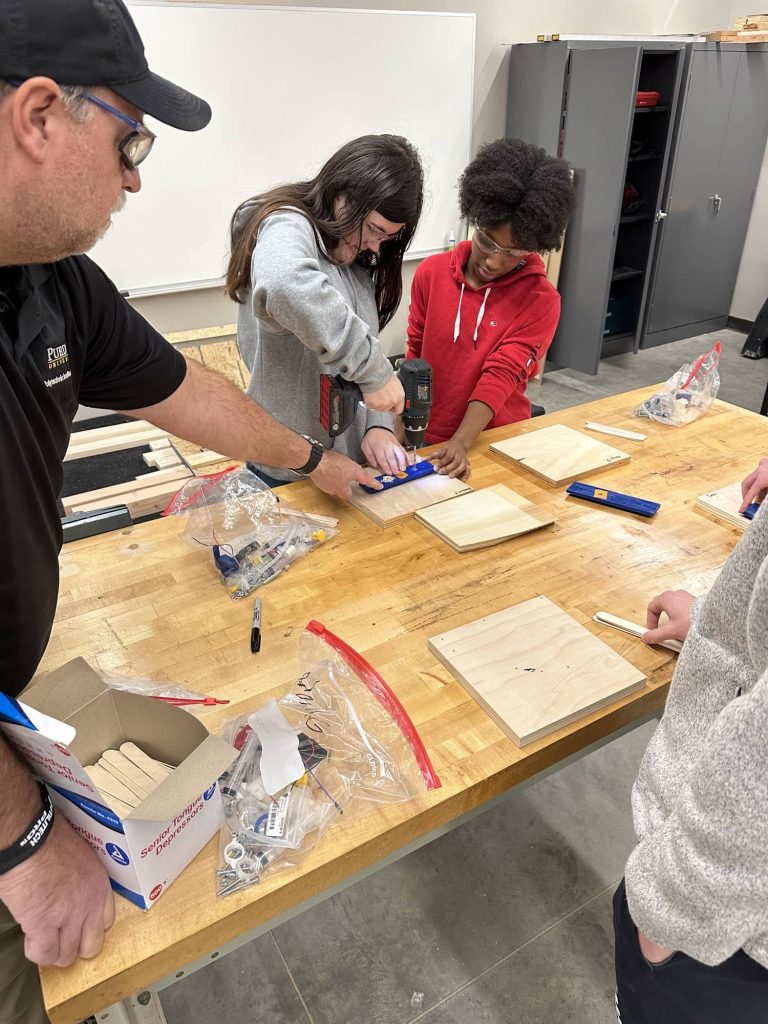 During 2022, INGU held 44 programs at 21 different campus locations, with an estimated 1778 students attending. A strength of the two-cohort model is that GEAR UP developers are able to take lessons learned from the first cohort and apply them to the second cohort to make improvements. INGU's organization models the engineering design process they often used in STEM curricula with students and teachers.
Teacher Support
Another part of INGU's mission is to share the lessons and best practices they've learned through the course of the grant. INGU provided professional development in math, science, and ACT/SAT preparatory workshops to over 2500 Indiana teachers over the past six years. More project-based learning opportunities for teachers are planned for the summer of 2023.
Teachers' professional development opportunities impact Indiana students as they help the students identify real world community challenges and propose solutions to deal with them. "The team investigates, researches, and explores these issues and develops solutions," Bolshakova said. "It helps reinforce the content teachers are already teaching in math, science, language arts, and really any subject."
Teacher professional development increased by 763% over the life of the grant with 862 educators supported in the last school year.
Federal government funding is critical for the GEAR UP program to continue. Please contact your elected state officials to voice support for INGU: https://www.edpartnerships.org/take-action?mc_cid=402610c180&mc_eid=57d75a0361#/
"With the hope that Congress approves a funding package, GEAR UP alumni, families, partners, and advocates are encouraged to share their GEAR UP support with elected officials," Bolshakova said. "We want to ensure GEAR UP is top of mind, so Indiana has an opportunity to compete in a 2023 competition. We are in our seventh and final year of funding, and to continue forward we must seek and successfully secure a new GEAR UP award."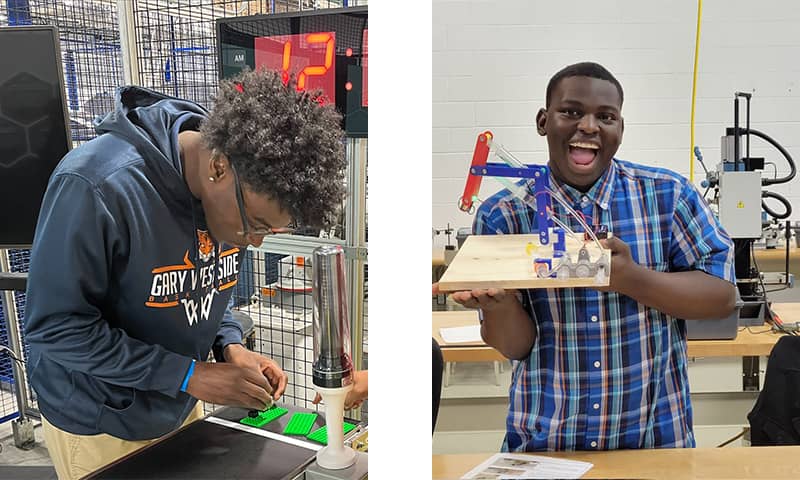 Impact
"Indiana GU is helping me be successful with life after high school by teaching us what it means to be a leader and what it is to support people in our community and in life in general," said Class of 2023 Dylan Minter. "And it's teaching us to be more of a servant leader and a leader who cares more than a leader who commands and a leader who doesn't care. With the skills that they're teaching us here it is helping us a lot with what might come in the future."
More INGU students graduate from high school, complete FAFSAs, and enroll in postsecondary education than the state averages.
An external evaluation study examined the differences in PSAT, ACT, and SAT scores between INGU students and comparison students from the class of 2021 (MetriKs Amérique, 2022). INGU students in the Class of 2023 scored significantly higher on PSAT reading and math sections than comparison students – particularly notable given the major academic disruption they experienced due to the global pandemic. More INGU students from the same class met or exceeded the readiness benchmarks on the ACT compared to comparison students as well.
"After high school, you decide what comes next – and there are endless paths you can take. But whatever you want to pursue, education can help open doors and expand options, today and tomorrow," Bolshakova said. "We help students identify their path and be prepared for it."
Source: Virginia Bolshakova, vbolshakova@purdue.edu
More: Garden club at Gary high school cultivates love of growing, nutrition education (Times of Northwest Indiana)
NWI Times Video: https://youtu.be/yfIzOxqyKjU