Four Alumni to Be Honored with the Purdue Distinguished Education Alumni Award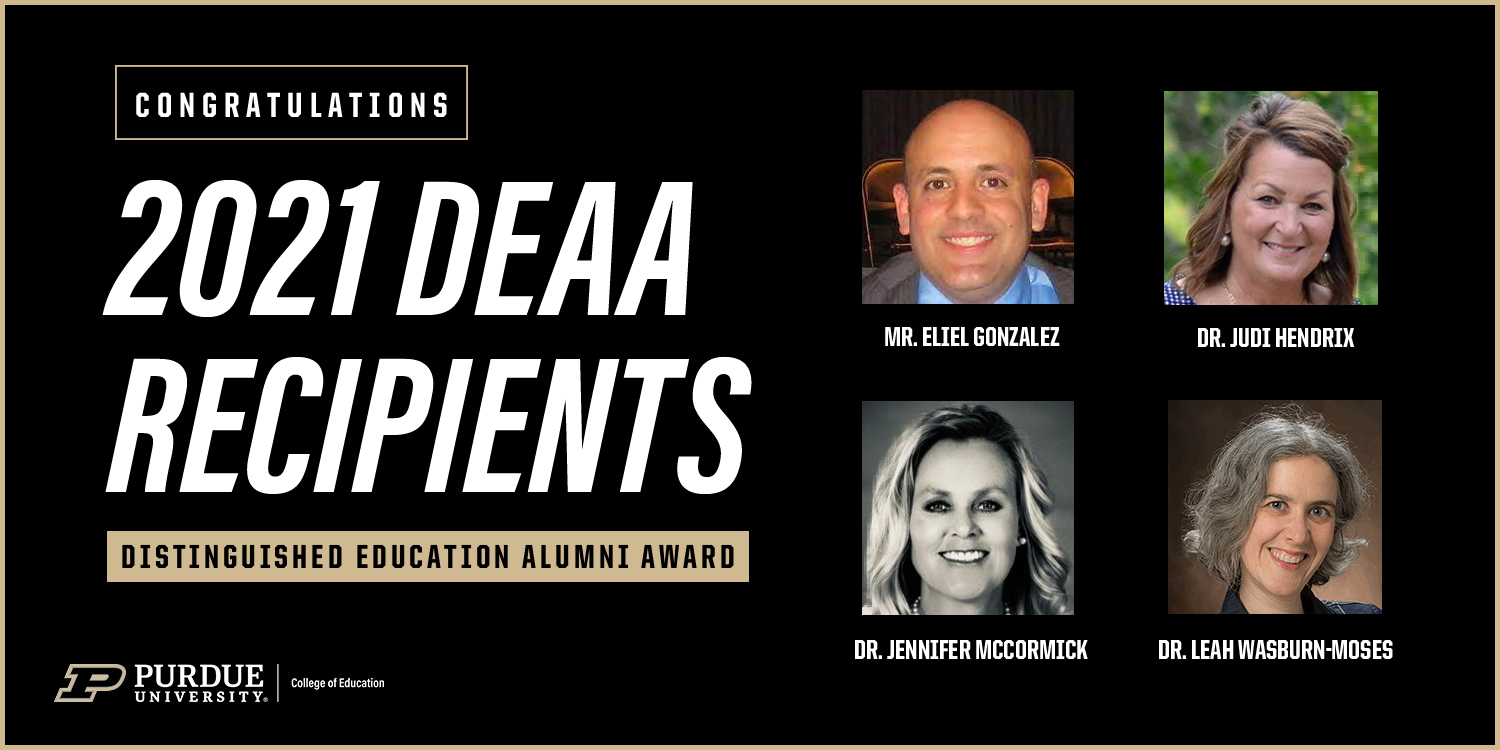 Purdue University's College of Education will honor four outstanding alumni at the Distinguished Education Alumni Awards on Friday, November 5. Mr. Eliel Gonzalez, Dr. Judi Hendrix, Dr. Jennifer McCormick, and Dr. Leah Wasburn-Moses will be recognized for notable professional achievements in their careers. The honorees are selected by College of Education leadership, and will be recognized at the biennial event to be held at the Marriot Hall on the West Lafayette campus.
Everyone is invited to view the Distinguished Education Alumni Awards livestream event at this link: http://www.kaltura.com/tiny/lrjws
MR. ELIEL GONZALEZ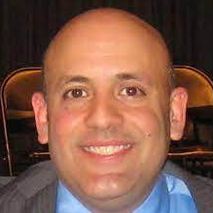 Mr. Eliel Gonzalez has served as a mathematics educator in the East Longmeadow Public Schools, in Massachusetts, for over three decades. His primary duties include teaching AP Calculus, Honors Calculus, and Pre-Calculus.
In addition to his full-time teaching, Gonzalez has been a coach for the Math Counts High School Math League every year of his career. He has served the College Board as a K-12 Professional Development Project Manager in Mathematics, AP Annual Conference Steering Committee Member, and a National Leader. As an endorsed College Board consultant, Gonzalez has conducted numerous AP Calculus, Pre-AP Math, and SAT workshops and summer institutes in the United States and abroad, as well as trained new math consultants.
When he is not working in the math education field, Gonzalez enjoys traveling, going to the beach, spending quality time with his friends, dining out, and following Purdue University sports.
DR. JUDI HENDRIX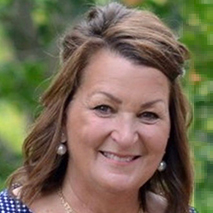 For Dr. Judi Hendrix, education has been her life. She truly loved attending school and leading a school. In her career, she has had 52 spring breaks, 52 beginnings of a new school year, and participated in or attended 46 Christmas programs.
Hendrix graduated from Western Boone Schools in Thorntown, Indiana and then spent her career serving students and educators. She began her career as a kindergarten teacher in Crawfordsville, Indiana. She then "went home" to Western Boone Schools where she was a gifted and talented teacher for elementary students, an assistant principal, the Director of Curriculum, Assistant Superintendent, and then served as the Superintendent.
Hendrix then followed her passion for presenting and facilitating workshops serving as the Executive Director of Wabash Valley Education Center in West Lafayette, Indiana. In her role, she assists teachers and administrators in their efforts to educate students by providing cost-effective, innovative resources for professional development, technology, and cooperative purchasing.
DR. JENNIFER MCCORMICK
Dr. Jennifer McCormick grew up on a farm in rural Henry County and is the proud daughter of a two very hard-working parents. Both were dedicated to community service and were fierce believers in public service and education. After a great K-12 experience in New Castle Community Schools, McCormick she continued her education at Purdue University. She started her career and served over 25 years as teacher, principal, superintendent, and State Superintendent of Public Instruction.
She was the superintendent of Yorktown Community Schools for seven years prior to serving as Indiana's 44th State Superintendent of Public Instruction. After her four-year term, she was named as Senior Vice President of Equitable Education Solutions – Analytics, Chairman of the Board for Gibraltar Design, and is the Chief Executive Officer of Fierce Up! Leadership, providing further opportunity to partner with schools.
McCormick has served on numerous boards and currently is on the Board of Directors for the Indiana Coalition for Public Education and Valley Oaks Health. McCormick continues to provide a voice for students, educators, and communities through multiple speaking engagements. She is married to Trent, a public school administrator, and is a proud military mother of Cael. McCormick's message is simple: Kids First. Always.
DR. LEAH WASBURN-MOSES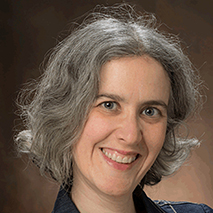 After leaving Purdue University, Dr. Leah Wasburn-Moses began her career as a Special Education Teacher at Jefferson High School in Lafayette, Indiana. After completing her doctoral fellowship at Michigan State University, she travelled to Oxford, Ohio where she is now a Professor of Educational Psychology at Miami University.
Wasburn-Moses is the Founder and Director of Campus Mentors, a national award-winning one-room alternative school for youth at risk that provides hundreds of field placements for future teachers. Her Campus Mentors model has gained recognition from the American Association of Colleges for Teacher Education, Association for Career and Technical Education, and Council for the Accreditation of Educator Preparation. She is currently working on expanding her Campus Mentors model to additional university communities.
Wasburn-Moses is the author of multiple books and articles on innovation in teacher education, including a recent book, Student Teaching: Past, Present, and Future, published in 2020. She is also a foster parent and plans to open a group home for foster youth in the future.
Writer: Katie Cockerill, kcockeri@purdue.edu