Old Master Phoebe Bailey shares how educators can impact students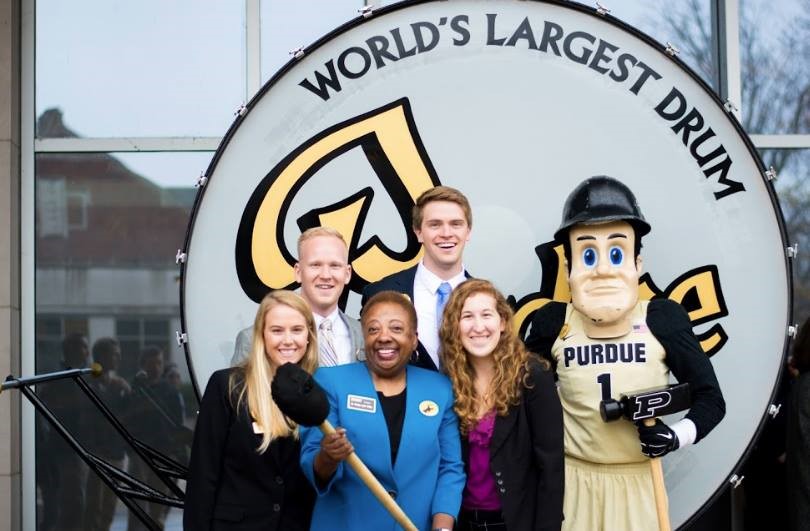 Alumna Phoebe Bailey (MS '72 COE; PhD '79, CLA) visited campus in November as part of Purdue's Old Masters program, a long-standing Purdue tradition that unites distinguished alumni and inspires students to embody the value of a Boilermaker experience.
Bailey gave the inaugural lecture in the Office of Diversity Initiatives' social justice lecture series, discussing the role educators play in advancing social justice. She also spoke to the students in EDCI 422, an English Education capstone methods class taught by Tara Star Johnson. Johnson said, "A central theme in her stories from her time as an English teacher was the importance of building relationships with students — particularly resistant ones — in order to be successful in engaging them."
Bailey spoke to the DeVito Scholars class, part of a scholarship program for freshmen that honors former College of Education professor Alfred DeVito. Jacob Hunt, a freshman from Lebanon, Ind. who is majoring in social studies education, said, "Dr. Bailey showed us just how influential a teacher can be."
Becca Zatkulak, a sophomore special education major from Carmel, Ind., served as one of Bailey's hosts for the week, accompanying her to classroom talks, lunch engagements and evening banquets. Zatkulak said, "Dr. Bailey has had such a powerful impact in the education field, and I think it was due to her zest for life and passion for helping those she was working with each and every day. Looking forward, I hope to mirror Dr. Bailey's love of working with students and to use that to inspire those around me."
Zatkulak said, "I gained an incredible amount of advice and inspiration from Phoebe Bailey during her short three days back at Purdue. However, the major thing that I took away from her was that it is so important to take advantage of all of the opportunities that you are presented with, even if it does not go along with the 'plan' you had set out for yourself. Dr. Bailey emphasized how all of the roles she held in her career were not necessarily what she had envisioned she would have done years ago, but she took each one as it came and enjoyed each role that she held. Life is full of new and unexpected opportunities, and Dr. Bailey showed me the joy that can come if you take advantage of and embrace those opportunities fully."
Bailey retired in August from the Boys and Girls Clubs of America, where she served as National Director of Educational Foundations and Academic Innovations. She spent 35 years as an English teacher and five years as a high school administrator in DeKalb County Schools, where she was recognized as Teacher of the Year. Her alma mater, Spelman College, recognized her with the Apple Award for outstanding service in education.