Leadership in Social Justice and Diversity
Our faculty members are leading many research projects related to diversity and social justice topics. Selected projects include:
English isn't the official language of the United States
Wayne Wright
Wayne Wright, associate dean for research, graduate programs and faculty development and Barbara I. Cook Chair of Literacy and Language, was a resource for this CNN story from May 2018 in response to a viral video. The video showed a New York lawyer berating employees in an restaurant for speaking Spanish. Read more >
Public Education's Role in our Democracy
In April 2018 the College of Education hosted Power Friday, a quarterly event showcasing speakers on current education topics. The focus was on Public Education's Role in our Democracy and featured a virtual presentation by renowned educator Deborah Meier. Following her presentation she joined a live panel discussion featuring our State Superintendent of Public Instruction Dr. Jennifer McCormick, Lafayette Schools Superintendent Dr. Les Huddle, Tippecanoe Schools Superintendent Dr. Scott Hanback, Teacher Union Representative Jennifer Smith-Margraf, and our own Dr. Crystal Johnson, associate professor of social studies education. View the event recording >
Rethinking Universities as Sites of Collective Public Activism
Jake Burdick, Rose Mason
Two of the speakers for our February Power Friday spoke on social justice and accessibility topics. Jake Burdick, assistant professor of curriculum studies, shared his thoughts on "Beyond Our Walls: Rethinking Universities as Sites of Collective Public Activism." Rose Mason, assistant professor of special education, talked about "ASD-On-The-Go: Maximizing Technology To Increase Access for Individuals with Autism."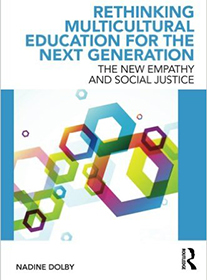 Rethinking Multicultural Education for the Next Generation: The New Empathy and Social Justice
Nadine Dolby
In this book, faculty member Nadine Dolby uses concepts from neuroscience and animal science to provide a new approach to multicultural education based on empathy, reaching future teachers with a message of social justice, equality and equity.
Dolby said, "A science teacher must know science; a math teacher must be passionate about math. But there is something beyond content: our students' attitudes and behaviors will shape the future of our country and the planet, and indelibly mark the futures of all of our children. All of our teachers must understand who they are, who the children in their classroom are, the fundamentals about the world they live in, and the possibilities for contributing in positive ways that exist for all of us every day."
Attitudinal change and learning for social issues related to social justice and diversity
Sunnie Lee Watson
Sunnie Lee Watson is exploring educational courses with thousands (or tens of thousands) of enrollees, also known as Massive Open Online Courses (MOOCs). Her research focuses on these courses can be designed and used to change learner attitudes at scale. She has studied MOOCs regarding topics related to social justice, such as human trafficking, animal behavior and welfare, journalism activism and the psychology of happiness.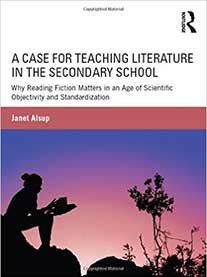 A Case for Teaching Literature in the Secondary School: Why Reading Fiction Matters in an Age of Scientific Objectivity and Standardization
Janet Alsup
In this book, Professor Janet Alsup explores how vicarious experience with narrative worlds can have positive effects on readers, including the development of empathy and understandings of transformative pro-social action. Through critical analysis of educational and epistemological trends, recent research in cognitive literary studies demonstrating the power of narrative reading on identity, and her own research on fictional reading and empathy building in middle school, this book is a sustained argument for the continued inclusion of literary study in our secondary schools to deepen adolescents' understandings of themselves and others. Read more about this book.
Project RESET: Refugee Youth Engaging in Critical STEM Literacy and Learning
Minjung Ryu
Minjung Ryu runs an after school project that engages resettled Burmese refugee youth in STEM learning activities. The after school program is to advance the youth's knowledge about weather and climate change, English competence, and critical STEM literacy. The youth participants in the program learn, talk, and present about weather and climate change and make digital stories about climate change to communicate with broader audiences. Through the project, Dr. Ryu and her team strive to build on the youth's strengths and empower them as agents who know about science and make changes to the world around them.
Designing learning technologies for personalized paradigm education
Bill Watson
Bill Watson argues that our current time-driven systems of education are designed so that not all students will succeed – by holding time to learn constant, they force variations in learning, leaving many students behind. An educational system focused on each student learning rather than the sorting of students into successful and unsuccessful learner must support personalized learning. He researches how to change educational systems to personalized approaches and how technology can support this transformation. See a video of Bill talking about the personalized paradigm.