K-12 STEM Education
Leadership in K-12 STEM Education
Purdue's College of Education was STEM before STEM was cool. Our students and faculty are part of a scientific community that values discovery and exploration based in science and mathematics as expressed through engineering and math. We are working to transform K-12 STEM education to prepare all students to be STEM-competent and STEM-confident adults. K-12 STEM Education is all about preparing teachers to help inspire and engage the next generation of scientists, engineers, explorers and entrepreneurs.
Here are links to research and engagement projects, curriculum development initiatives, K-12 STEM learning and teacher professional development projects, and faculty awards in the area of STEM education (click below to expand):
K-12 STEM School Engagement, Curriculum Development, and Discovery
IDOE MSP Grants:
Selcen Guzey has been awarded a Math and Science Partnership (MSP) grant from the Indiana Department of Education (IDOE) to improve integrated STEM education in Indiana. Lynn Bryan, Minjung Ryu and Paul Asunda are collaborating on the grant.
Boiler STEM (2014-2017)
Carla C. Johnson and Selcen Guzey were awarded a state MSP grant with Avon Schools.
PSTEM (2013-2016)
Professors Carla C. Johnson and Lynn Bryan, along with Tamara Moore from Purdue's School of Engineering Education, were awarded a state MSP grant to partner with Kokomo School Corporation and Maconaquah School Corporation.
Becoming a Spacewalker
STEM and literacy-focused educational extensions are now available for the children's book Becoming a Spacewalker: My Journey to the Stars. The book was co-authored by astronaut Jerry Ross and faculty member Susan Gunderson. Susan collaborated with alumna and STEM educator Andi Zoller to create the resources which are available for use at no charge. Find these resources at www.jerrylross.com/k-12 which takes the user to a table of contents for two sets of plans, Theme A (Literacy focus with integrated STEM content) and Theme B (STEM extensions with integrated literacy content). Click on a specific day to preview or download the plan.
STEM Discovery and Teacher Professional Development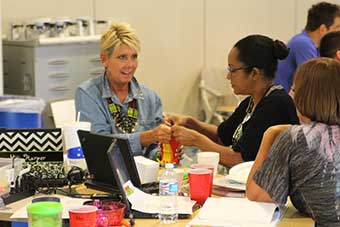 Indiana K-12 STEM Education Conference
The first annual Indiana K-12 STEM Education Conference filled to capacity when more than 600 educators and administrators swarmed to Purdue in January. The conference focused on the latest work in STEM education and research and included more than 100 presentations by P-16 educators. The date of the second conference is set for January 12, 2017.
Science Learning through Engineering Design (SLED) Targeted Partnership
This $6.7 M NSF funded project is designed to increase grade 3-6 student learning of science by developing Indiana's first integrated, engineering design-based approach to elementary/intermediate school science education. The partnership involves Purdue University's colleges of Engineering, Science, Education and Polytechnic Institute, working with four Indiana school districts: Taylor Community School Corporation, Plymouth School Corporation, Lafayette School Corporation, and Tippecanoe School Corporation. The project is devising a design- and standards-based curriculum, inventing design-informed science instructional methods, and implementing on-going assessments to inform the project at the pre- and in-service teacher education levels in central Indiana. The partnership is using summer institutes, linkages with Purdue pre-service teachers, cyber-infrastructure, action research, and graduate coursework to equip teachers with design-based pedagogical skills and science content. An external advisory board consisting of recognized experts in science education, mathematics education, and engineering design meet annually to provide input to the project team.
Also see: stemedhub.org/groups/sled
Brenda Capobianco, EdD, associate professor science education (Co-PI and co-leader)
James Lehman, PhD, associate dean for discovery and faculty development, professor of learning design and technology (senior personnel)
David Eichinger, PhD, associate professor of science education and biology (participating STEM faculty member)
(PI – Alyssa Panitch, biomedical engineering)
SLP – Science Literacy Project
A multi-year, ground-breaking research study that showed students as early as kindergarten could learn inquiry-based science while also developing literacy skills. Children participate in teacher-guided activities that involve making predictions, taking measurements, making observations, recording what is seen or measured, comparing observations with predictions, summarizing, and communicating answers to others.
Leveraging Contrasting Cases to Investigate Integer Understanding
A study designed to identify language factors and instructional sequences that contribute to improving elementary students' understanding of addition and subtraction problems involving negative integers. A second objective is to identify how elementary teachers interpret their students' integer understanding and use research findings to support their teaching of these concepts.
Making Sense of Global Warming and Climate Change: Model of Student Learning via Collaborative Research
This the $1.7 million grant, awarded by the National Science Foundation, seeks to develop a model of how middle school students learn about global warming and related concepts, and a model of teacher understanding of student learning in Grades 7 and 8. This research project deals with the complex domain of climate change and global warming. These topics require an understanding of climate science and underlying physics concepts yet the coherence between the two areas is rarely a focus in K-12 school level science.
This project, in partnership with Project Lead the Way (PLTW), is developing and implementing a high-quality professional development approach for teaching computer science that incorporates continuous online just-in-time support for CS teachers. This large-scale project will establish an evidence-based professional development program to improve teachers' knowledge to teach computer science, and it will deliver empirically validated best practices for providing computer science professional development to teachers, especially those with limited computer science background.
Youli Mantzicoupolis, PhD, professor of educational psychology (PI)
Helen Patrick, PhD, professor of educational psychology (Co-PI)
Ala Samarapungavan, PhD, head of the Department of Educational Studies, professor of educational psychology (Co-PI)
Laura Bofferding, PhD, assistant professor of mathematics education (PI)
Nurturing Multiplicative Reasoning in Students with Learning Disabilities
This 5-year $2.9 million grant, awarded by the National Science Foundation, is studying how students with learning difficulties develop multiplicative reasoning and using this knowledge to develop a computer system that models students' evolving conceptions and suggests tasks to help students achieve higher levels of performance. This research and development project will augment teaching practice by providing the tools to analyze student conceptions and enact best-practice on an individual, student-needs basis. The goal of the project is to diminish the gap between students with learning disabilities/difficulties and their normal achieving peers.
Yan Ping Xin, professor of special education (PI)
Dan Shepardson, PhD, professor of geoenvironmental and Earth science and science education (Co-PI)
Modeling in Primary Grades (MPG): Science Learning through Content Rich Inquiry
This exploratory project examines how teachers of second grade students scaffold the development of student conceptual models and their understanding of the nature of scientific models and modeling processes in physical science conceptual areas associated with the particulate nature of matter. Teachers receive professional development around ways in which they can facilitate productive disciplinary discussions with young children that result in students coming to understand core ideas in the Next Generation Science Standards. www.nsf.gov/awardsearch/showAward
Ala Samarapungavan. PhD, professor curriculum and instruction, Department Chair (PI)
Lynn Bryan, PhD, professor physics education (Co-PI)
Global Soundscapes
A project designed to bring the science and sounds of the natural world to classroom students around the world. The project uses the new science of soundscape ecology to design a variety of informal science learning experiences that engage participants through acoustic discovery. Soundscape ecology is an interdisciplinary science that studies how humans relate to place through sound and how humans influence the environment through the alteration of natural sound composition. The project is developing sound-based learning experiences targeting middle-school students (grades 5-8), visually impaired and urban students, and the general public as well as professional development materials for informal science educators.
See also: Purdue Researcher's Sounds of the Earth article
Dan Shepardson, PhD, professor of geoenvironmental and earth science and science education (Co-PI)
(PI – Bryan Pijanowski, forestry and nautral resources)
The Dynamics of Climate Conference and Teacher Professional Development Toolkit
Over two years, the conference brought 40 thought leaders—naturalists, professors, museum educators, and other public education specialists in the first year, and in the second year 41 high school teachers to Purdue from Indiana and surrounding states of Illinois, Ohio, and Michigan. The professional development toolkit was used as the main resource for the high school teachers.
Also see: Purdue's Climate Change article
Dan Shepardson, PhD, professor of geoenvironmental and earth science and science education (PI)
The Research Goes to School Program
This five-year program is funded by the National Science Foundation. Each year-long cycle includes the participation of in-service teachers with Noyce Scholars and Woodrow Wilson Fellows (Stem Goes Rural students) at a two-week summer workshop to provide education about advanced research in areas such as nanotechnology. In addition, the in-service teachers will provide leadership in HASTI and NSTA presentations, participate in two-way webinars and social networking sites to support fellow teachers, and share scientific content with students from scientists at Purdue via Virtual Field Trips. Six (6) in-service teachers will be selected to participate in year four.
Peg Ertmer, PhD, professor emerita of learning design and technology (summer workshop leader)
Building a Theoretical Framework for Defining Outcome-Based Global Engineering Competencies
This interdisciplinary project defines what constitutes global competencies for engineers. It focuses on building knowledge and theory about global competencies in engineering that can be transferrable to other STEM disciplines. This project is constructing foundational knowledge on the complexities and multidimensionality of 'global competency.' The long-term goal is to develop a shared understanding of what it means to be globally competent in STEM education.
Ayse Çiftçi, PhD, associate professor of counseling psychology (Co-PI)
(PI – P. K. Imbrie, engineering education)
Fat Dogs and Coughing Horses: Animal Contributions towards a Healthier Citizenry
This is a cooperative effort among Purdue University's College of Veterinary Medicine, Discovery Learning Research Center at Discovery Park, College of Education, Agricultural Communication, College of Health and Human Sciences, Science Bound Program; public schools in Indiana; and The Children's Museum of Indianapolis to develop, evaluate and disseminate educational programs for K-12 students, parents, teachers, and the public about the science involved in keeping people healthy.
Marcia Gentry, PhD, professor of gifted, talented, and creative studies (Education lead)
(PIs – Timothy Ratliff, Sandra Amass, veterinary medicine)
PD4CS: Professional Development for Computer Science
Professional Development for Computer Science (PD4CS) aims to establish an evidence-based professional development (PD) program to improve teachers' knowledge to teach computer science, with a special focus on the effective training of teachers having limited computer science background. This is a joint effort between Purdue University, Michigan State University, and Project Lead The Way.
James Lehman, PhD, associate dean for faculty development, professor of learning design and technology (Co-PI)
The Mediating Role of Stereotype Threat and Achievement Goals in the Regulation of Scientific Motivation
There are myriad stereotypical beliefs that people hold, one of which is the belief that women cannot perform as well as men in math and science. This belief can have a detrimental effect on women's perceptions of competence and, ultimately, their performance. The purpose of this study is to examine how women's experiences of their laboratory classroom environments may trigger stereotype threat and possibly result in maladaptive patterns of achievement motivation.
Eric Deemer, PhD, assistant professor of counseling psychology (PI)
The POET Project: Investigating the Use of Visualization to Effectively Teach Optimization Modeling Skills
The POET (Purdue Optimization modeling Education Tool) Project is creating, evaluating, and disseminating a web-based interactive learning environment for teaching students how to formulate valid and tractable optimization models. The project is evaluating the effectiveness of visualization in learning optimization modeling skills through measures of student performance. Optimization is a key component of an industrial engineering curriculum and an essential part of other areas of engineering, the natural sciences, and business administration; however, many students find it difficult to build effective optimization models. The project is gaining insights into how students learn mathematical optimization modeling in order to show that novice students can better formulate valid optimization models when provided with visualization tools for guiding self-assessment and enhancing conceptual understanding.
Rachel Kenney, PhD, assistant professor mathematics education and mathematics (Co-PI)
(PI – Ji Soo Yi, industrial engineering)
STEM Teacher Education


STEM Goes Rural
This is a collaborative, cross-disciplinary initiative that recruits talented STEM professionals who are interested in changing careers to become rural, high school STEM subject area teachers. The leadership team includes educators closely associated with Purdue's Center for Research and Engagement in Science and Mathematics Education. The initiative also features the Woodrow Wilson Indiana Teaching Fellowships, which offer $30,000 stipends for selected fellows funded by the Woodrow Wilson National Fellowship Foundation and Lilly Endowment to enable career changers to afford the commitment to attend graduate school. Both fellows and STEM Goes Rural participants will have the opportunity to interact with leading scientists and engineers and receive ongoing mentoring as they transition to the classroom.
STEM Teacher Recruitment and Retention
Professor Lynn Bryan has received a $239,000 grant to improve the recruitment and retention of teachers in STEM fields. The grant, which was awarded through the Indiana Commission for Higher Education's STEM Teacher Recruitment Fund, aims to expand the number and diversity of students pursuing careers in K-12 STEM teaching through the creation of a scholarship program.
100Kin10 The College of Education was named a partner in 100Kin10, a national effort to bring 100,000 new STEM (science, technology, engineering and mathematics) teachers to schools by 2021. The network is focused on dramatically increasing the quantity and quality of STEM teaching so that all students have access to first-rate STEM learning.
Science education professor Lynn Bryan, director of the Center for Advancing the Teaching and Learning of STEM (CATALYST) is leading the initiative for the college.
Applicants are accepted as 100Kin10 partners after a rigorous vetting process. Talia Milgrom-Elcott, executive director and co-founder of 100Kin10, says the reviewers found that the College of Education has the potential to transform how STEM is taught in schools. Current faculty projects around integrated STEM and STEM teacher certification were of particular interest to network facilitators.
Purdue Robert Noyce Scholars: Excellence in the Preparation of Rural High School STEM Teachers
Funded by the National Science Foundation, the Purdue Robert Noyce Scholars Program aims to attract the very best secondary STEM teacher education candidates to become teachers in rural Indiana communities. The program provides up to two years of scholarship funds for students majoring in a science, mathematics, technology, or engineering discipline who desire to become a high school teacher. In addition to completing the necessary coursework for certification to teach STEM discipline at the secondary level (grade 7-12), Noyce scholars receive opportunities to engage in (1) extended field experiences in rural STEM classroom; (2) STEM-related service learning projects, and (3) small group and one-on-one mentoring during their teacher education studies and in the first two years of their teaching career. Lynn Bryan, PhD, professor of science education and physics (PI)
Lilly Integrated STEM Teacher Education Planning Grant
The integrated STEM specialization program will offer prospective elementary and secondary science, mathematics and technology teachers an opportunity to develop core content and skills for integrating scientific inquiry, technological design, engineering design and mathematical analysis. See also: wbaa.org/post/purdue-wants-change-stem-teacher-education Lynn Bryan, PhD, professor of science education and physics (PI) Integrated STEM Cluster Hire
Purdue University is transforming its STEM teacher education as it exists today from a model of instruction in demarcated subject areas to a model in which teachers learn to integrate scientific inquiry, technological design, engineering design, and mathematical analysis as pedagogical approaches to STEM instruction. To this end, the Colleges of Education, Science, Engineering, Agriculture and Polytechnic Institute at Purdue University have developed joint appointments at the level of assistant, associate, or full professor to join the new K-12 Integrated STEM Teacher Education Initiative.
Preparing to Teach Algebra: A Study of Teacher Education
This project studies how secondary mathematics teacher preparation programs provide preservice teachers opportunities to develop knowledge for teaching algebra and address algebra expectations in state-level policies and the Common Core State Standards for mathematics (CCSSM). It is designed to answer two important research questions: (1) What opportunities do secondary mathematics teacher preparation programs provide to learn about algebra, algebra teaching, and issues in achieving equity in algebra learning? And (2) In what ways do secondary mathematics teacher preparation programs address the algebra, functions, and modeling standards and mathematical practices described in the Common Core State Standards for Mathematics (CCSSM)? Jill Newton, PhD, assistant professor mathematics education (PI)
CS4EDU: Computer Science for Education
The goal of the CS4EDU project is to create new pathways for undergraduate education majors to become computationally educated secondary teachers. This includes a joint effort between faculty in the Department of Computer Science and the College of Education to create a Computer Science Teaching Endorsement program, based on the educational computing standards set by the International Society for Technology in Education. James Lehman, PhD, associate dean for discovery and faculty development, professor of learning design and technology (Co-PI) (PI, Chris Hoffman, computer science)
Statewide STEM Reform Evaluation Projects (2010-2013)
Dr. Carla C. Johnson has served as the Lead Evaluator of the state of Tennessee's Race to the Top funded STEM portfolio, through a partnership with Vanderbilt University's Tennessee Consortium on Research, Evaluation, and Development (TNCRED). This evaluation has included an examination of 29 funded STEM professional development programs, six regional STEM innovation Hub partnerships, 8 STEM schools, and the overall impact on STEM stakeholder awareness across the state. Carla Johnson, EdD, associate dean for research, engagement and global partnerships, professor of science education (research affiliate)
Faculty STEM Awards and Recognitions
Laura Bofferding
PhD, assistant professor of mathematics education
National Science Foundation Career Award
National Academy of Education Spencer Postdoctoral Fellowship
Lynn Bryan
PhD, professor of science education and physics
The Association for Science Teacher Education's (ASTE) Outstanding Science Teacher Educator of the Year Award
National Association for Research in Science Teaching (president)
Purdue University Butler Center Leadership Excellence as a Distinguished Woman Scholar for 2015-2016. This award is intended to recognize the doctoral alumnae of Purdue who have made significant scholarly contributions. In recognizing these women, an example is made, and a standard set for the aspiring women scholars at Purdue today.
Brenda Capobianco
Ph.D., professor science education
Christian J. Foster Award
Named after the former first gentleman of Purdue, this award recognizes a faculty member who has made transformational contributions to improving STEM teaching and learning in Indiana's K-12 schools.
David Eichinger
PhD, associate professor of science education and biology
2014 Outstanding Undergraduate Teaching Awards in Memory of Charles B. Murphy.
Fulbright Fellow
Carla Johnson
EdD, associate dean of research, engagement and global partnerships, professor of science education
The Association for Science Teacher Education's (ASTE) Outstanding Science Teacher Educator of the Year Award 2013
The Association for Science Teacher Education's (ASTE) Implications of Research for Educational Practice (2014)
The School Science and Mathematics Association Award for Excellence in Integrating Science and Mathematics (2013)
School Science and Mathematics journal Editor (2011-present)