Community Engagement and Service Learning
We work with schools and communities locally, nationally and globally to address educational challenges and transform learning.
Frankfort Community Schools Visit Purdue, Work with Faculty Members
Professor Trish Morita-Mullaney's engagement with the Community Schools of Frankfort resulted in a campus visit hosted by the College of Education and the Latino Cultural Center. The students learned about admissions and our teacher education programs. View photos from their visit and read more about the partnership.
Computer-Assisted Math Intervention Programs
Faculty members Yan Ping Xin and Signe Kastberg, along with Victor Chen from the College of Technology, have received an NSF Discovery Research K-12 grant to continue their work on computer-assisted math intervention programs for students with and without disabilities. About 5-10% of school age children are identified as having mathematics disabilities, putting them at significant risk of persistent academic, life, and work challenges. Despite a proliferation of web-based mathematics games, there is a lack of programs or tools that focus on conceptual understanding of mathematics ideas – concepts that will help students with mathematics disabilities catch up with their peers. This project aims to fill that gap.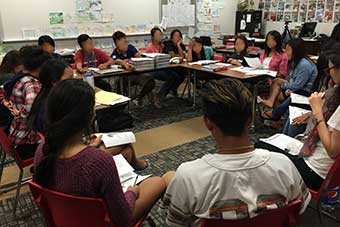 Project RESET: Refugee Youth Engaging in Critical STEM Literacy and Learning
Faculty member Minjung Ryu runs an after-school project that engages resettled Burmese refugee youth in STEM learning activities. The after school program is to advance the youth's knowledge about weather and climate change, English competence, and critical STEM literacy. The youth participants in the program learn, talk, and present about weather and climate change and make digital stories about climate change to communicate with broader audiences. Through the project, Dr. Ryu and her team strive to build on the youth's strengths and empower them as agents who know about science and make changes to the world around them.
Indiana K-12 STEM Education Conference
The first annual Indiana K-12 STEM Education conference filled to capacity when more than 600 educators from across Indiana and the Midwest traveled to Purdue in January. The conference focused on the latest work in STEM education and research and included more than 100 presentations by educators from P-12 schools and universities. The second annual event is scheduled for January 12, 2017. Read more about the event.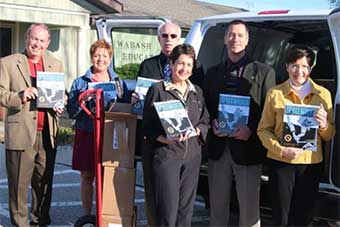 Becoming a Spacewalker: My Journey to the Stars
The college delivered more than 3,000 copies of Becoming a Spacewalker: My Journey to the Stars to Indiana's nine regional educational service centers in honor of Purdue's Day of Giving. Fourth-grade teachers from each region's member schools received a copy of the book, which faculty member Susan Gunderson co-wrote with astronaut Jerry Ross.
The development of the book, the free online resources and the initial printing were paid for by private support from the members of the Dean's Advisory Council. Online educational resources, which have both a STEM and a literacy track, are available here.