College hosts 300-plus elementary students at Purdue to interest them in future college-going, teaching
During April, over 300 first and second graders from Carroll County "attended" Purdue University as guests of the College of Education and part of the Promise Indiana Carroll County program. Carroll Elementary School sent 135 students on April 20, and well over 200 students from Delphi Elementary attended on April 24.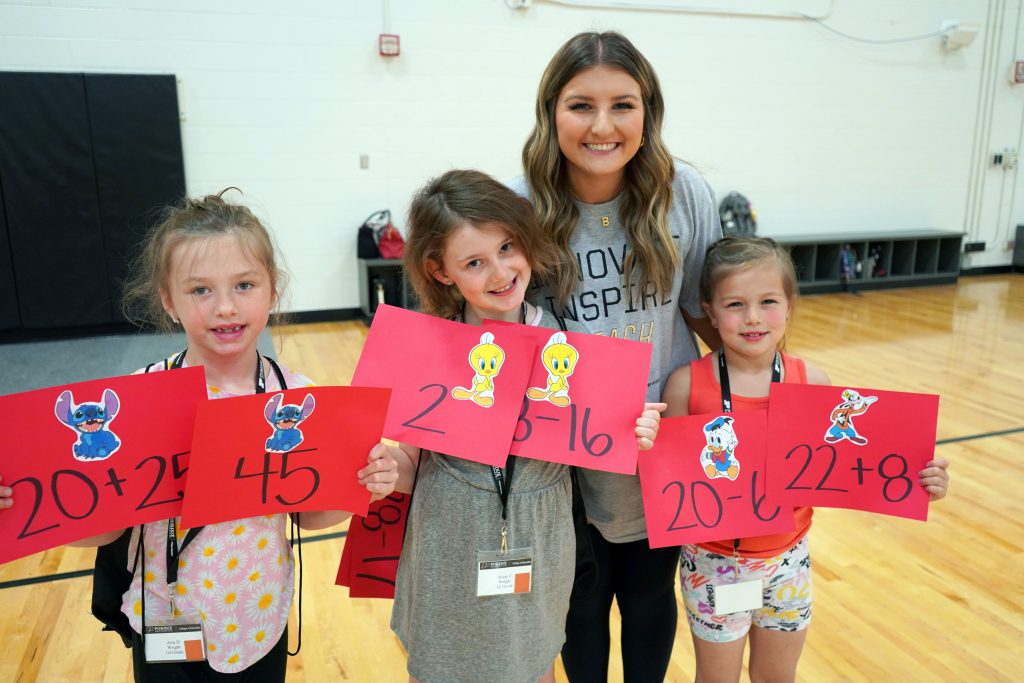 The county program is part of the Indiana Youth Institute's statewide Promise Indiana, which "exists to ensure every child has the resources, champions, and community in support to pursue education beyond high school."
"This event was sponsored by the College of Education as part of our commitment to P-12 engagement and Purdue's land-grant mission," said Kathryn Obenchain, associate dean for Learning, Engagement & Global Initiatives and director of the event. "The visiting students got to meet Purdue Pete, see how Purdue students 'go to school' to become teachers, learn some math, and think about what they might study when they are in college and learn a little bit about Purdue."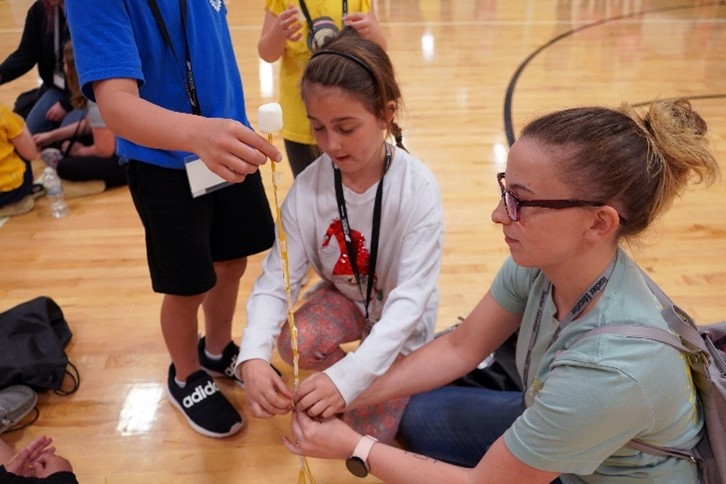 Carroll Elementary School Principal Roy Hufford was enthusiastic. "We are thrilled to have partnered with the Purdue University College of Education!" he said. "Anytime we can expose students to campus activities, faculty and students, we find it gets kids excited and helps bring to life the potential for post-high school education."
Purdue Pete, Purdue University's official athletic mascot, welcomed the schoolchildren as they stepped off their buses at the France A. Córdova Recreational Sports Center on campus. To kick things off inside, the schoolchildren were divided into two groups and Purdue Pete instructed them in the iconic "Boiler Up, Hammer Down" chant – with one group shouting "Boiler Up!" and the other group responding "Hammer Down!" The classes then visited various stations where they participated in fun and educational art, math, science, and career exploration activities, ending with picture-taking in front of the Boilermaker Xtra Special (a mini-version of Purdue's official mascot, the Boilermaker Special, a vehicle outfitted to look like a 19th century steam engine).
"For many young students, this will be their first experience on a campus, and we want to make sure that it is a fun, positive, and educational field trip," said Jennifer Barce, assistant dean for Teacher Education. "The event also gives our undergraduate future teachers the opportunity to plan and implement activities outside of the classroom setting."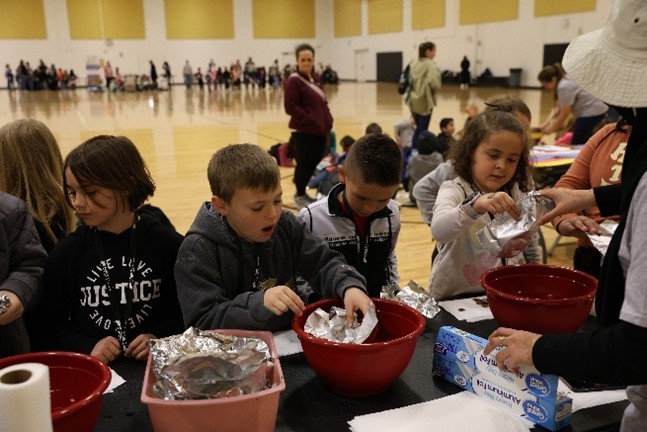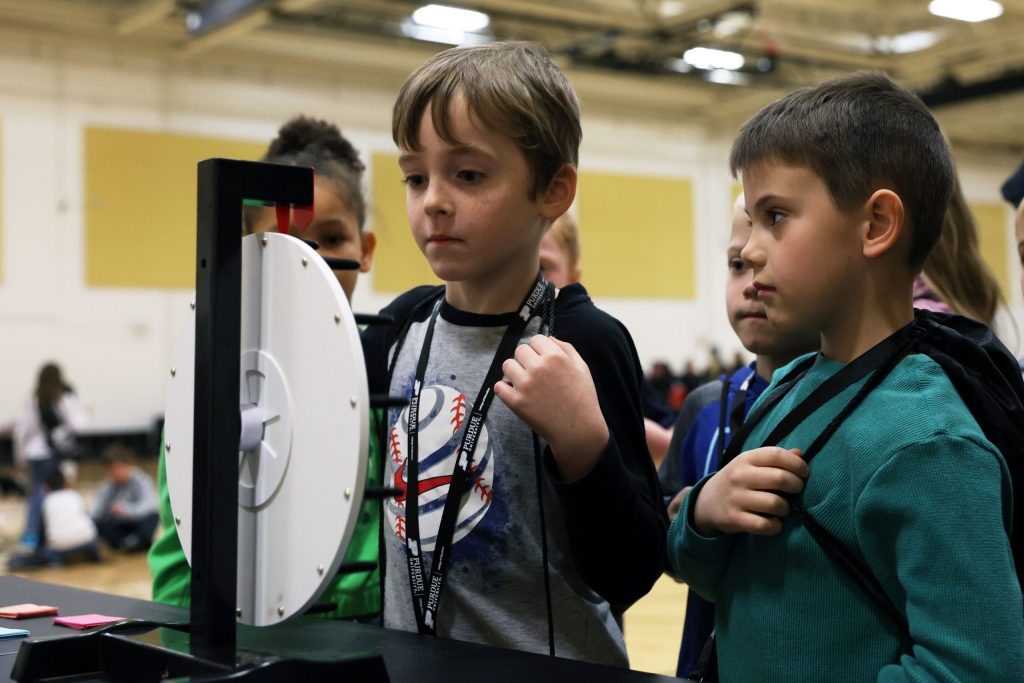 (l) Delphi Elementary students created to hold as many coins as possible and still float; and played a game with Professor Janine Duncan to explore what job/career they wanted to learn about. (Purdue University Photos/Noah Hosaka)
"For our Education students, the benefit is experience working with schoolchildren in non-formal settings and seeing how field trips operate from a teacher perspective," Obenchain added.
The event was staffed by Purdue Education faculty, staff, and undergraduate and graduate students. For example, Laura Bofferding's Elementary Math Education (EDCI 36401) students ran some of the stations, along with Janine Duncan's students from Family and Consumer Sciences teacher education. Other faculty participants included Jennifer Smith and Jasmine Begeske, faculty in the College's Special Education Program, as well as Kristen Seward and graduate students from the Gifted Education Research and Resource Institute (GER2I) Center.
"As part of Purdue's land grant mission and the College of Education's commitment to P-12 education, the opportunity to engage with our area communities and children is important in building a lifelong relationship between those communities and Purdue," Obenchain said.
A second-grade girl summed up the day: "It was so much fun and such a beautiful place!"
Source: Kathryn Obenchain, kobench@purdue.edu