Past Featured Graduate Students
Past Featured Graduate Students
Zeynep Akdemir | PhD Student / Research Assistant | Curriculum & Instruction
"I think it is exciting to look at middle schooler's science learning profiles from different motivation and engagement frameworks" – Zeynep Akdemir
Zeynep Akdemir is a PhD student studying Science Education in the Department of Curriculum and Instruction. Born in Turkey, she worked as a research assistant at a private university in Istanbul before coming to Purdue.
"My research interests are investigating what motivates middle school students in learning STEM and science in particular," Akdemir said. "Along this line, I am specifically researching how students' achievement and motivation is linked to their engagement profiles."
Recently, her paper "Introducing Quantum Key Distribution to High School Students" was published in Science Teacher. Akdemir describes that the highlight of her research experience so far has been working with a very productive and friendly research team, one notable member being Associate Professor Mushin Menekse within Purdue's School of Engineering Education. During their time together Akdemir has learned several different methodological approaches to research.
"In five years, I would like to be a successful science teacher educator in the field," Akdemir said. "Also, I would like to conduct comparative studies here and abroad to explore science learning motivation profiles of middle school students."
When asked if she had any advice for fellow graduate student researchers, Akdemir recommended that researchers match their life goals to their tasks they perform in their graduate studies as well.
"Choosing the best mentor and finding themselves a compatible researcher in their lab team would give them the courage to do and achieve more," said Akdemir.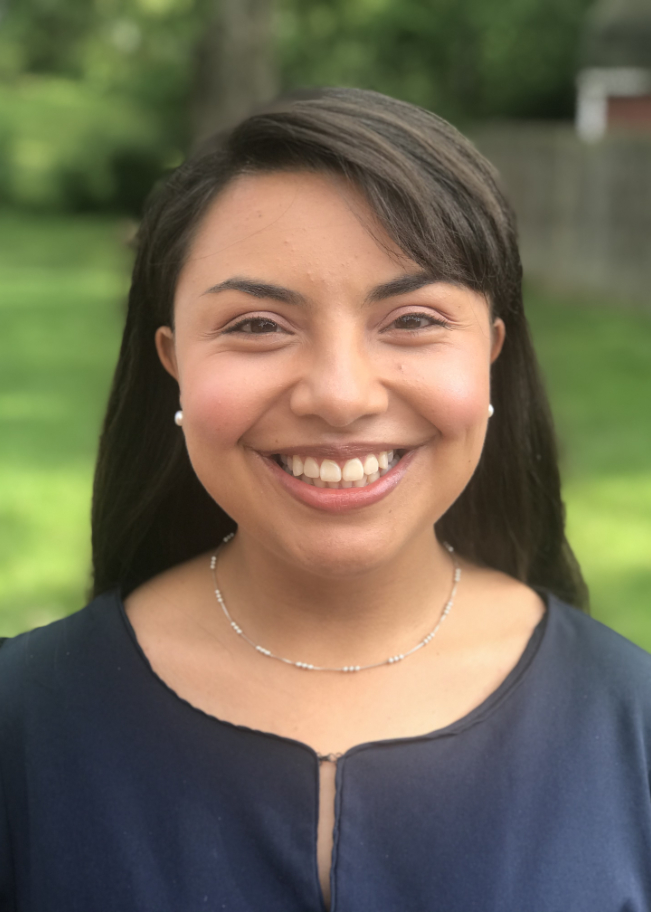 Daniela (Ela) Castellanos-Reyes | PhD student, Learning Design & Technology
"I believe that distance education is one approach to improve people's lives. My goal is to support adult learners and nontraditional students to improve their quality of life through distance learning." – Daniela Castellanos-Reyes
Daniela (Ela) Castellanos-Reyes is a fourth-year PhD student studying Learning Design and Technology in the Department of Curriculum and Instruction. Originally from Bogotá, Colombia, she earned her bachelor's degree in English Teaching from the Universidad Nacional de Colombia and also taught academic English writing to undergraduates.
Castellanos-Reyes came to Purdue after doing a research internship at the Gifted Education Resource and Research Institute (GER2I) as part of the Undergraduate Research Experience Purdue-Colombia, advised by Dr. Nielsen Pereira and Dr. Marcia Gentry. During the internship she also learned about Learning Design & Technology and found that it was a great fit for her.
"My focus is within the fields of instructional design and learning analytics to understand learners' networks and their interaction with online learning environments," Castellanos-Reyes said. "I am also an advocate of Open Pedagogies. My work spans from the use of Open Educational Resources (OERs) to Social Networking Sites (SNSs), to Massive Open Online Courses (MOOCs), yet all converge on finding alternative and inexpensive technology platforms for education in a connected world."
During her graduate training, Ela has enjoyed a prolific writing career counting with 10 publications and six of them as first author. Recently, her paper "The dynamics of a MOOC's learner-learner interaction over time: A longitudinal network analysis" was published in Computers in Human Behavior. She said that highlights of her time at Purdue so far include the relationship she has with advisor Dr. Jennifer Richardson and working with Dr. Yukiko Maeda. Ela's proudest achievements are being the first Purdue student to receive the P.E.O. International Peace Scholarship as well as the first Purdue Dissertation Fellow awarded by the National Academy of Education and the Spencer Foundation. She hopes to continue making Giant Leaps as a future faculty!
Learn more about Ela's work in her website www.elacastellanosreyes.com and connect via Twitter @ElaTheCandidate.
Razak Dwomoh | PhD Candidate
"My research interest is in preparing young people to be critical thinkers, problem-solvers, and civic-ready. I investigate how inquiry-based instructional approaches and culturally sustaining pedagogies impact students' learning outcomes and social-emotional learning and becoming informed civic competent citizens, positively addressing barriers to student achievement and democratic citizenship." – Razak Dwomoh
Razak Dwomoh is a fourth-year PhD Candidate studying Social Studies Education in the Department of Curriculum and Instruction. He is an American Association of Colleges for Teacher Education (AACTE) Holmes Scholar. Originally from Ghana, Dwomoh has taught elementary, middle, and high school students. Prior to joining the Purdue community, he completed a master's in Curriculum and Instruction at Eastern Illinois University.
The crux of Dwomoh's research interests involves inquiry approaches to Social Studies teaching and learning, teacher preparation, diversity, equity, social justice, and culturally sustaining pedagogies. He has authored ten articles and co-authored five papers in peer-reviewed journals, and currently has three manuscripts under review and five papers in progress.
One of Dwomoh's articles was recently chosen for the January publication in the 2022-2023 edition of the Purdue Graduate School's InnovatED magazine titled "The decline of civic education in the United States: Examining instructional strategies in-service teachers employ to prepare the next generation." He also received an award as one of the top ten graduate students chosen by the Purdue University Graduate School and was one of ten winners of the Boilers Work Internship award in the Summer of 2022.
Dwomoh hopes to be a tenured professor researching social studies inquiry, civic readiness, teacher preparation, and diversity and equity in social studies education.
His advice to current students is to set the right priorities and achievable goals, don't procrastinate, learn from mistakes, and be open to constructive criticism.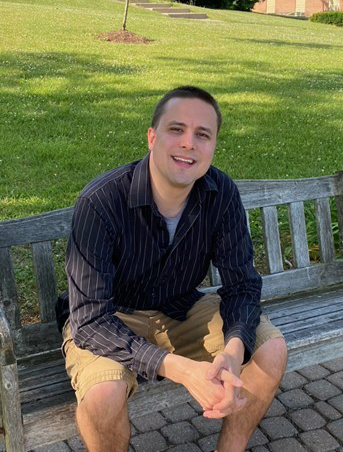 Mark Knight | PhD student, Math Education
"Don't be afraid to ask faculty for input and advice; they are most helpful whenever any issues come up." – Mark Knight
PhD student Mark Knight, from Munster, Indiana, completed his undergraduate studies at Purdue in BS Math Education (2012) and his MS Statistical Science (2018) from Indiana University. He is now working on his PhD part-time while teaching at a high school.
"I know that Purdue is a top-tier university with wonderful faculty and many great opportunities," Knight said. "I chose my area of concentration because I wanted to continue to contribute to the field of math education beyond classroom instruction alone."

His current areas of research interest focus on the application of technology in the enacted curriculum of statistics and mathematics education. Highlights of his research experience so far include the amount of new ideas, methods, and technologies he has discovered.
"Having been a teacher of statistics and a purveyor of lots of high-quality technological resources in my classroom, it felt like a natural place to direct my research interests," he said. "I hope to be contributing to mathematics and statistics education both within and beyond the walls of my classroom."
Wonjin Yu | PhD Student in Learning Design and Technology
Wonjin's message to fellow graduate students is to enjoy the present since graduate school can be a long journey.
Wonjin Yu is a second-year PhD student in the Learning Design and Technology program within the College of Education and a recipient of the David-Ross fellowship within the College. Prior to coming to Purdue University, he earned a Bachelor's Degree in Elementary Education and a Master of Arts in Elementary Computing Education from Daegu National University of Education in South Korea. He also has experience as an elementary school teacher in South Korea, teaching mostly 5th– and 6th-graders and occasionally students in lower grades. This is where he devoted himself to spreading the effectiveness of computing education to the public. Computing education is his main research interest, with particular projects centered around integrating Artificial Intelligence and Computational Thinking into education methods.
Wonjin is currently working with Samet Baydar on a proposal for a leadership development program for NATO, which they presented on October 26, 2022, at the Association for Educational Communications and Technology Conference in Las Vegas.
Samet Baydar | PhD Student in Learning Design and Technology
Samet Baydar is a second-year PhD student in the College of Education's Learning Design and Technology program, and a Teaching Assistant in the College of Liberal Arts' Japanese program. He is from Turkey and earned a BA in Japanese Language Education at Canakkale Onsekiz Mart University. As an undergraduate, he received a scholarship to study in Japan for one year as an exchange student. Upon completing his BA, he worked in the manufacturing industry in various roles in Turkey.
In 2017, he decided to earn a Master's degree in Japanese pedagogy in the U.S. and discovered that Purdue's College of Liberal Arts had the most opportunities for a graduate student. He took three courses from the College of Education during that time and his interest in educational technology took root.
Samet's primary research interest is personalized learning, which values each student individually and tailors their education based on their needs, preferences, and goals in life. He wants to conduct research on utilizing various technologies (including emerging virtual and augmented realities) to contribute to equity in education.
Samet's favorite memory in the College is being (along with teammate Wonjin) among the top three winning teams in an instructional design and development competition at the national Association for Educational Communications & Technology (AECT) conference. "It was surprisingly good news for us, and now we will be competing to win the competition in late October 2022 in Las Vegas," Samet said.
His best advice to future College of Education students is not to fear dreaming of what they want to do in education. "Our faculty provides endless mental and cognitive support to pursue your dreams and research," Samet concluded.
Mathilde Jocteur-Monrozier | MsEd Student
Mathilde Jocteur-Monrozier is a second-year MSEd student from Grenoble, France, studying Literacy & Language Education within the College of Education. She is a graduate of Grenoble-Alpes University in France, where she received a Bachelor and Master of Arts in English. Her research lies primarily in second language acquisition, with a particular interest in immersion programs and international schools. Additionally, she hopes to make an impact on culturally responsive teaching by looking at things from an anti-racist perspective.
Mathilde describes the role of a teacher is not only that of sharing knowledge, but making sure students are becoming kind and responsible citizens. She also believes that modern technology can be utilized to enrich the study of language and help students understand that learning a new language changes the way they see the world.
Mathilde says her favorite experiences in graduate school so far involve helping Purdue students apply to study abroad programs in French-speaking countries and hearing back later about the great experiences they had.
She recently received the Boiler Changemaker Award from the College for leading "the Graduate School Education Counsel (GSEC) into the post-Covid world", organizing and conducting hybrid workshops for COE graduate students, and helping develop a new program for mentoring incoming international students.
Mathilde's message to fellow graduate students is to understand that graduate school is a short time, and to make the most of what they have available. She advises them to get out of their comfort zones to meet new people, start new hobbies and apply to opportunities even if they seem out of reach.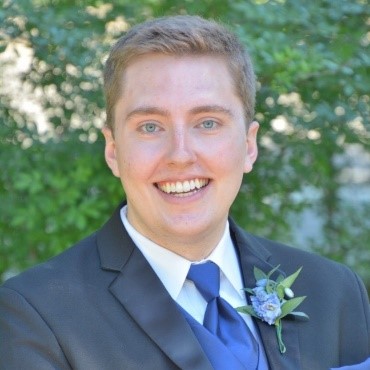 Graham Lyon | PhD Student
Graham Lyon's message to fellow graduate students is find their calling where their talents cross with the needs of the world and to serve others to the best of their ability with the vessel they were given. Lyon is a third-year PhD student studying Science Education in the Department of Curriculum and Instruction.
Lyon is a third-year PhD student studying Science Education in the Department of Curriculum and Instruction. He is a graduate of Buffalo University where he completed a triple major in Physics, Chemistry, and Mathematics along with a minor in Education where he completed award-winning research on High-Temperature Superconductivity within the Physics Department. After receiving his degree, he earned a National Teaching Fellowship to pursue his current PhD studies. Graham's main research interests lie in Authentic Education, which presents a crossover of education models such as situated- and problem-based into one uniform and practical message. Lyon has presented his research at the Indiana STEM Conference hosted by Purdue and hopes within five years to obtain a permanent position at Purdue's College of Science, Engineering, or Education. He also hopes during his time in West Lafayette to form a local private school to implement his Authentic HAMSTER model blending Healthcare, Art and Religion into the traditional STEM approach. He chose Purdue University as part of his National Teaching Fellowship because he believes it offers the highest quality education and opportunities compared to the alternatives.